Firstly, what is the GLA:D Arthritis Program?
Good Life with Arthritis: Denmark (GLA:D) is an education and exercise program developed in 2013 by researchers for people with Knee and Hip Osteoarthritis Pain.
The GLA:D Arthritis Program helps –
Reduce Pain,
Reduce Medication Use,
Improve Function, and
Reduce the need for Joint Replacement. 
Research from the GLA:D program shows symptom progression reduces by 32%.
Run at Pathways Physiotherapy, GLA:D has had some fantastic and life changing results. One of our physiotherapists Vanessa Moulday recently had a chat with Mr Nigel Hartnett, a renowned Orthopaedic Surgeon based in Melbourne who has described the GLA:D Arthritis program as a game changer for his practice.
Here are a few snippets from our chat with Nigel – 
Q: What is it about the GLA:D program that you think is so beneficial?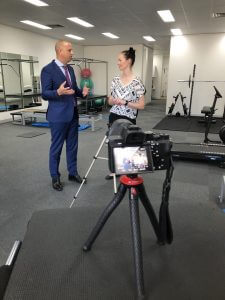 A: "I've always been a big believer in physiotherapy as a key non-surgical measure when people have arthritis of the knee. They've got to have some physiotherapy to get a sense, and get an elemental presence of actually what is going on with their knee arthritis. And physiotherapists are fantastic at providing that education for patients."
"The GLA:D program is a structured program with two sessions per week for six weeks. They've got baseline measurements and they've got post program measurements. So we do know from those measurements, and from the research, that there is actually improvements made."
"I've had nearly 170 patients do this program so far and only 21 have come back needing their knee replaced. It's one patient in every eight and a half patients coming towards a knee replacement."
Q: What about patients who believe that the GLA:D program might be a waste of time if they're getting the surgery anyway?
A: "I'm almost having to push patients out of my door where they're saying, "No no, do the knee replacement." I'll say "No, go and do some physiotherapy, because for many, physiotherapy is a key non-surgical part of managing knee arthritis." There's no question about that.
"Other things such as simple patient analgesia, simple weight loss program if it's required, and joint supplementation, are also key strategies. But the GLA:D program is the best, the crème de la crème."
"Of the 21 people that have had a knee replacement, all have gone wonderfully well on the other side of surgery. It's almost a prerequisite for me and my patients for them to actually do the GLA:D program before they have a knee replacement. At the end of the day, they come back and they're stronger, they have less pain, they are able to walk up and down stairs better, and they can walk further and walk more quickly. This is what happens with the GLA:D program."
Q: What about people with mild symptoms, are they suited to the GLA:D program?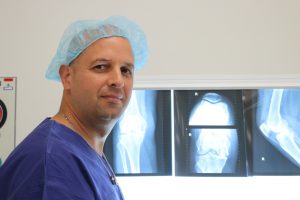 A: "Even patients with mild symptoms, they do come in because they've been favoring their knee. That limb is deconditioned. So they actually need to have some form of strengthening program. That scenario might not necessarily be GLA:D because these patients do tend to be a little bit younger and might not be able to make all the sessions."
"As long as patients are following something like GLA:D. It's all about physios working with patients to give them a program that they can do at home or at the gym, but also being maintained by physios in those initial periods. It's then about joint supplementation, it's about activity modifications, it's about diet control, and patient education. And for me, physiotherapists are the key at providing education to patients."
For more information about The GLA:D Arthritis Program run out of Pathways Physiotherapy, call 0397522368 to speak to one of our friendly staff about the program.